Mesdames et messieurs bienvenue pour le premier episode de wwe superstars !!!!!
On commence fort avec un SD vs RAW match : 
SD vs RAW tag team match : rey mysterio et edge vs kofi kingston et john cena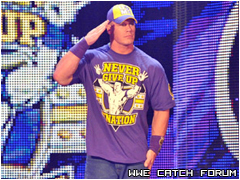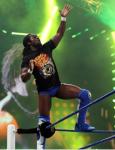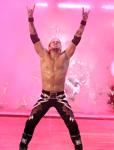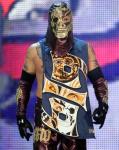 rey rey et the rated r superstar ont du respect entre aux mais ils savent qu'a SD il vont se battre pour un titre de champion du monde et ils se mefient
tous les deux !!!!! rey commence contre cena !!! la cloche retentit et cena mene le match, il enchaine suplex, back suplex et meme le you cant see me 
passe !!!!!! il se tient pres pour le AA mais rey le contre et cena atterit dans les cordes juste a coter de kofi qui, pendant que le luchador se balanca 
dans les cordes, fesa le tag avec cena !!!! le 619 de mysterio passe sur cena sauf que kofi arrive par derriere et SOS !!!! kingston tenta le tomber : 
1...2... et non !!! seulement 2 !!!!!!! kofi tenta une suplex mais rey contra et les 2 superstars se trouva a terre rey arriva a faire le tag avec edge
qui est chaux comme de la breze et faisa son edgecution sur kofi. puis l'ultimate oportunist se tient pret pour le spear !!!! et sa passe ...... le
tomber : 1...2... et 3 !!!! SD gagne se premier match !!!!! quel incroyable prestation des deux equipes pour ce match !!! Bravo aux deux equipes !!!
winners of this match : rey mysterio et edge
On enchaine avec un triple threat match :
triple threat match : the miz vs jeff hardy vs cm punk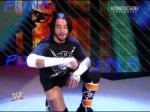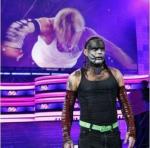 Jeff sauta sur punk pendant que miz se cache a l'exterieur du ring !!!!! jeff rua de coup cm punk !!!!! il le met meme en sang puis le laisse dans un coin 
du ring. il sorta du ring pour aller chercher the awesome one et il le remet dans le ring!!!! mais miz contra et fesa un suplex a jeff. puis s'elanca pour 
faire un miz line a punk qui ete dans le coin sauf que ce dernier contra et miz se prena le coin puis the straight edge superstar, jeta hardy dans le coin
et fesa son Shinning Wizard Combination qui passa !!! puis prena jeff sur ses epaules et executa le GTS !!!!! mais au moment ou il ala faire le tomber,
the miz arriva par derriere et fesa son skull crushing finaly sur punk et il poussa jeff en dehors du ring!!!!! puis le tomber sur punk : 1...2... et 3 !!!
the awesome one gagne ce match !!!!! 
winner of this match : the miz
Et enfin le Main Event avec le nouveau wwe champion en action !!!!!!
M.E. : triple h vs chris jericho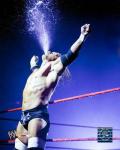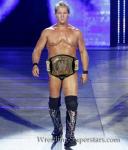 HHH mene le match tres decider a prouver qu'il peut etre champion du monde !!!! mais jericho changa la donne grace a une suplex puis il enchaina avec un lionsault . puis jericho fesa le tomber en trichant 1...2... et non l'arbitre l'a vu au dernier moment !!!!! jericho se fait engueller par l'arbitre pendant que HHH recupere et lorsque l'arbitre a fini, il couru vers the game mais ce dernier l'accueilli avec un spinebuster !!! puis il se tena pres pour un pedigree et elle passe !! mais il decida d'en faire une 2eme !!! et elle passe aussi.  et il finissa par le tirer au centre du ring et lui fesa le figure four leg lock !!! 20 seconde apres, chris abandone !!!! the game viens de gagner contre le nouveau champion de la wwe !!!!!
winner of this match : triple h 
et on fini avec l'image de triple h qui gagne ce match !!!!!!
                                                                                                                 *WWE*