Mesdames et messieurs bienvenue a sunday night PPV pour elimination chamber 2011 !!!!
cage match jeff hardy vs cm punk le gagnant devient challenger au titre IC
punk voula faire son GTS des le debut et il le regretera puisque jeff contra en twist of fate puis il en fesa un deuxieme !!!! ensuite pour en finir et
exiter la foule, il essaya le swanton bomb du haut de la cage mais punk roula et jeff s'eclata sur le ring !!!!! puis cm punk prena jeff sur ses epaules
et fesa le GTS pour en finir !!!! puis il sorta tranquillement par la porte et la cloche sonna !!!!
winner et new number one contender pour le intercontinental championship : cm punk 
battle royal pour le united states championship john cena vs the miz vs jeff hardy vs kofi kingston
the miz tout exiter couru vers jeff hardy pour l'eliminer mais celui ci fit une mauvaise manip' et les 2 passerent par dessus la troisieme corde !!!! john
et kofi rigolent !!!! john avait le dos tourner et quand il se retourna, kofi lui assena un trouble in paradire spectaculaire et le marine passa par dessus
la troisieme corde !!!!!!!!!!!!!!!! kofi celebre sa victoire dans ce match tres court !!!!!!
winner et new united states champion : kofi kingston 
triple h vs sheamus Si sheamus gagne, il aura un match ic championship a raw  
sheamus n'est pas interresser par le IC mais il se combat quand meme !!!! apres avoir dominer un bon moment et penssant qu'il peut faire le bicycle kick,
il s'elanca mais HHH contra et spine buster !!!!! puis hunter fesa le pedigree sur le celtic warrior qui s'ecroula par terre et the game fesa le taunt de
la DX puis le tomber : 1...2... et 2 !!!!!! triple h recupera sa ceinture IC et l'etala par terre avant de faire un deuxieme pedigree sur sheamus qui se 
mit a seigner. triple h  cria : " punk you're dead !!!! " puis il reparta fier de sa victoire et de son titre dans les vestiaires !!!!!
winner : triple h 
fatal four way cage match wwe championship chris jericho vs john cena vs jeff hardy vs the miz 
jeff n'etait pas encore arriver que cena attaqua le champion et l'assoma contre la grille. jericho se mit a saigner et la musique de jeff retentit : il 
arriva avec une chaise a la main et fesa le menage dans le ring et tous le monde seigna mais a un moment, the miz l'attaqua quand jeff hardy eut le dos
tourner et the awesome one fesa son skull crushing finally sur la chaise !!!!!! puis apres avoir donner un coup de chaise a cena et jericho, miz escalada
la cage et quand il toucha le sol, la cloche retentit et l'arbitre anmena la ceinture de la WWE au miz !!!!!!!!!!!!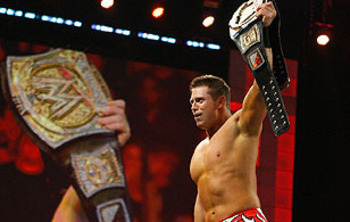 winner et new wwe champion : the miz
main event : cage match world heavyweight championship edge vs rey mysterio
edge et rey rey se sere la main par signe de respect et l'arbitre fesa sonner la cloche !!! edge domina et il enchaina des prises en s'aidant de la cage :
une suplex contre la cage, une clotheline et il le balanca sur la cage !!!!!!! ensuite il assoma rey entre les cordes et le ring puis il se prepara pour le 
spear mais le luchador contra et edge tomba rede assomer par la cage !!!! mysterio couru vers edge pour un bulldog et le mexicain sortit par la porte de la
cage et la cloche sonna !!!!!! voici le nouveau champion du monde poid lourd !
winner et new world heavyweight champion : rey mysterio
Voila c'est tout pour ce PPV aujourd'hui !!!!!! Merci et a bientot !